Learn More About SoFlo Pool and Spa Builders of Wellington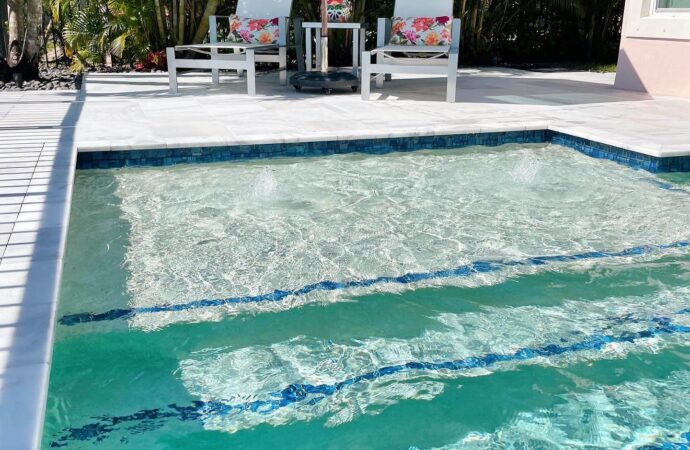 Our company is the best choice for all your pool renovation and construction needs in the city, especially when you want to make sure you get the exact result you expect or even a better one in terms of quality, durability, and aesthetics. Our contractors are highly qualified and have extensive experience in all aspects of our services, so you can bet that any pool construction or remodeling will be in the best hands when relying on us. SoFlo Pool and Spa Builders of Wellington contractors have been providing design and working in construction consulting services for the entire area and surrounding cities besides Wellington for over 30 years. We are proud that we are the first choice in construction, remodeling, or renovations for both residential and commercial owners.
We are one of the few companies that are committed to continuous improvement and growth. We will make sure that your pool exceeds your expectations.
Many property owners struggle to find the right way to achieve their goals. We are also familiar with the challenges of working with different styles. We are here to help you in every way possible and ensure you don't have to put more time and effort into something that doesn't really require that much extra time. We do care about the planning and design process, but we don't forget to focus on providing the technical skills and equipment for our contractors and craftspeople to handle the project and deliver the result and pool you want. 
We will ensure all the knowledge, experience, and expertise they have gained over the years don't go to waste, and instead, you can continue getting the best thanks to them and our hard work.
Pool construction can be challenging. We are aware of this and want to support every step, so rest assured we will begin right where you need us to, and it is the correct thing to do.
You Can Contact Us to Get Everything Started
If you decide to work with us, we will not disappoint. Once you contact us, our team will be attentive to your needs and provide all the support needed for the design, pre-planning, and construction phases of the project, so you have qualified professionals helping with all the crucial stages of the process.
We want to let you know that we are available to answer any questions about the type and size of pool you require. We have many options available for commercial and residential property owners, including zero-entry and plumb pools as well, so you can work around specific types and wait for us to help with the customization.
Let us help you choose if you're not sure what option would be better for you. Let us know all details, and we'll get to work on your project. We do want to let you know that an assessment of your space will give you a better idea of how the estimate will look and how accurate it will turn out. Allow us to deliver it for free and bring the final estimate to the table as a result.
Below is our list of additional services: