New Pool Builds & Construction for West Palm Beach Homes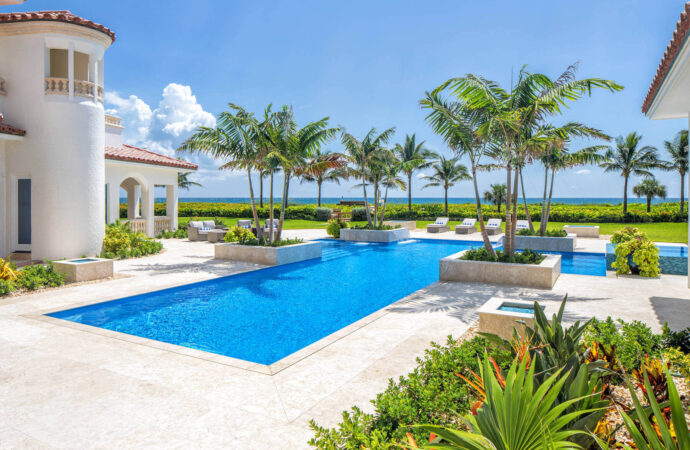 SoFlo Pool and Spa Builders of Wellington can assist you in building a pool for your residential or commercial property and make sure you're more than satisfied with the final result and guarantee that you don't have to go over the entire investment or project again in the future. We will work within your budget and not charge you extra fees that you don't see or are totally unnecessary in the process. With our help, you can get access to over 15 different services in West Palm Beach, and rest assured that our team will be there to bring everything your way.
Building a pool is a tedious task. It takes time, even if you have skilled professionals helping you. Before you start the construction, ensure you are happy with the design and go over all the necessary steps to guarantee that you don't struggle in this process.
Professionals may choose to take all responsibility for designing and creating styles. This approach does not work for us because of two reasons:
You shouldn't let professionals make your decisions, as this project is about you and how you want your property to be once the pool is built and installed. Professionals should make recommendations and help you determine what can be done on your property or not. It should all be about you and your decisions and how you want this pool. We are there to support you, not force you to do what we think is best or bring an opinion that you can always follow.

You must be happy with the design before anything else can start. You should take the time to consider all options before making the right decision or just getting started with the construction and renovation.
You don't need to forget your responsibilities. Our team will make sure everything runs smoothly. We will still respect your wishes and adhere to your instructions. We will offer suggestions, help with the hard work, and let you know if it is possible, as our goal is to serve you around all your needs based on the project you have in mind.
While we are available to help you with any project, you make the final decisions. We will not help you if the budget is beyond your means or you do not approve it. Instead, we will work with you to find a solution and focus on what you can and want to do.
We Are Serving Right Now!
We can not only build pools on your land, but we also provide renovation and remodeling services.
We know how hard it is to find competent and qualified professionals to come to your house and evaluate your pool to help you choose the right design or help you determine if your commercial property has the best features or not for attracting clients and bringing more benefits. We do this for you as we'll create a plan that suits your needs and your vision based on the information we compile for you.
We can help you maximize your investment and get you the design that you desire.
Contact us today for more information and to get started with your project.
Below is our list of additional services: