FREE New Pool Build Construction Quote for Wellington Residents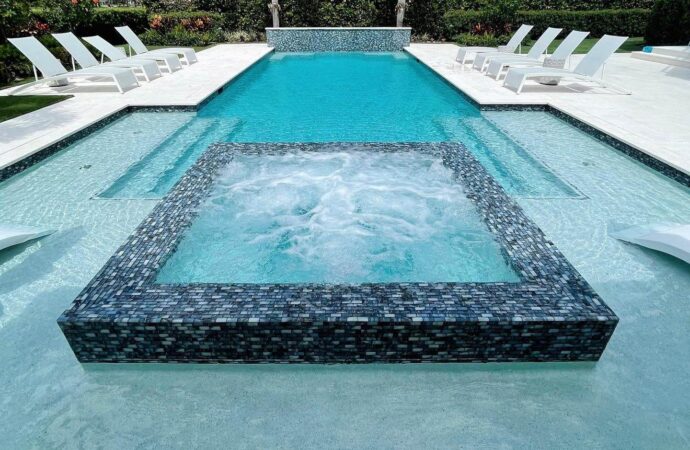 If you're looking for reliable contractors and pool builders in Wellington and nearby areas, SoFlo Pool and Spa Builders of Wellington can help you design and build any type of pool you desire. We also have the ability to assist you in choosing the right type of pool or a custom option that suits your preferences and needs, so you don't have to rely on a simple design you don't like or will end up requiring more time and effort. 
Our company has been in operation for over 30 years and is proud of the achievements we have made for our clients. Pool construction can be a tedious and time-consuming process. We want you to be satisfied with the final result and ensure you don't have to struggle with something that should be enjoyable, even during the weeks it takes to build the pool or renovate it.
We want to give you the best possible support whenever you contact us. We must make it simple and easy for you to contact our team before we can do that. For your convenience, we have provided contact information as well as phone numbers for you to reach us and place your request along with the contact form with all the fields so you can get us the information needed without effort.
Our offices are open during normal business hours. You will feel comfortable and get all your questions answered by our professionals and staff.
We would be happy to talk with you about the project that interests you and the reasons you selected this service over others. We are happy to provide information to help you make sure your investment pays off.
We will help you every step of the way, unlike other professionals. You don't have to worry about the future or how the pool will look. Maybe you are looking to remodel or renovate. No matter what your project is, we can help and will make sure you get the exact result you have been looking for all this time.
We Will Help You with Every Step
There are more than 15 services that you can choose from, depending on the pool you require or how we can assist you and if you maybe just need some consultation and recommendations around this. We can help with commercial or residential requests and bring all the support you will need for any of the projects in mind.
Our clients may contact us to discuss a particular project, such as a saltwater pool, swimming pool, or plunge pool. We can help you build a pool if you don't know what you need or want.
You can ask questions, reach us via the channels that you prefer, or let our team know what your needs are in these projects by visiting us. We will schedule a visit to assess your property and provide you with an estimate that is ten times better than the other competitors. It will also adapt to your budget, so you have everything you need.
Below is our list of additional services: