Zero Entry Pool Builds and Spa Construction in Wellington FL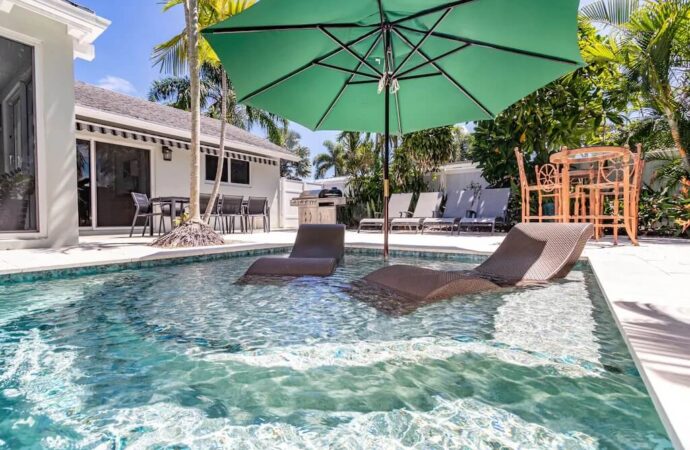 Swimming pools are difficult to access due to their depth and how stairs and other elements along the edges are integrated into most designs. In most cases, there may be stairs or an entry that isn't accessible for all, especially those with disabilities. Zero-entry pools and spas are the best options in these cases, and we are always encouraging property owners to bet on them or at least integrate the zero-entry feature in other designs. These pools allow for a seamless entry and save you time and effort. In addition, they are easier to maintain and provide more comfort than traditional pools.
The team at SoFlo Pool and Spa Builders of Wellington can help you build this luxurious and comfortable pool for your residential or commercial property, and rest assured you won't incur extra expenses and that you can transform some current designs and pools into zero-entry ones if you wish for it and allow our team to assess them to see if it is possible.
You don't have to limit what we can do when you allow us to work for you in the zero-entry pool. All the benefits these pools bring to your business or your home will be yours, no matter what. It's possible to relax at your own pace without needing to climb stairs or go down them when entering the pool.
It is easy to understand the concept of zero-entry pools and spas as the concept lies in how you would usually enter the beach without all the obstacles that pools have in the form of additional features. It is exactly the same. You can enter the pool from any edge or side, so you don't need to worry about obstacles making it difficult to enjoy.
These are very popular because they gradually descend and then transition to water, getting deeper. You can swim to the deeper areas or simply stay where you can reach the tiles. This is a great option for residential properties, and you can have more people coming in if you own a commercial property and the zero-entry pool.
Your patients can come to your clinic for physiotherapy with no extra effort, or you can open the opportunity for your clients and guests, so they have a good time. You can also make it possible for disabled people to have access to your pool. It is inclusive and will help you regardless of your limitations.
There are benefits for both residential and commercial property owners. Even if there are no special people who use the pool, it makes your life easier and safer.
You Have a Wide Variety of Designs Available
It is possible to build pools using vinyl and gunite, even fiberglass, and any other type of material you have seen in other pools. We are aware that property owners might prefer certain materials, and we are here to make sure you have access to all of them since there are other zero-entry pool options available. You can have them built in many different materials to suit your vision and bring the actual design you want to live.
You won't believe this, but a common pool can be used as a riverbank or beach. Your pool can be customized with tiles and features that will make it unique, and it is all about working on the right design and style.
All it comes down to finding the right people. SoFlo Pool and Spa Builders of Wellington's experts and contractors are confident in their abilities. We are proud of the high-quality materials we use and have invested a lot to grow our services. All tasks and pool projects are handled by our builders, who have the necessary qualifications.
We are happy to assist you in choosing the right option and work with the perfect materials and designs you can opt for when going for zero-entry pools, either for your residential or commercial property.
What are the Benefits of Having a Zero Entry Pool?
As we have mentioned, it provides comfort and accessibility in all aspects.
It is also important to have fewer steps or none at all so that all customers, guests, and disabled people can use them easily. This will prevent accidents and make it easier to clean up after guests, customers, or disabled people who need it.
A zero-entry pool can be used wherever you are. The typical structure is not a problem, so you don't have to worry about it. You can have fun in the pool, it is safe and independent, and it's accessible.
You don't have to use lifts to access the pool. This is a major problem for commercial property owners and staff at hotels or other facilities that assist people with disabilities. It's not hard, but it's best to allow them to be independent and have fun, so they don't feel like you are not being inclusive or don't care about making it simple for them to enjoy holidays and depend less on other people.
Safety is essential as it minimizes the chance of accidents and provides safe areas for edges and transitions within the pool as well, so it is a win-win situation if you learn how to use everything properly.
Depending on how the pool is built or what design you choose, there are many benefits. Some people focus more on making the pool access, while others are more concerned with installing specific amenities and features. This can be very difficult, but we are available to assist with any detail.
Get Your Zero Entry Pool Today!
If you're up for the challenge, we can assist you in every way possible to make it a reality. And the pool will definitely be the focal point of your property.
Our team will present you with all the options, designs, materials, and other information available to help you make an informed decision that is based on your needs and goals. When building a pool for a commercial property, it is important to consider your guests' interests, and we will bring them to the table when you reach out with this type of project.
Get in touch with us today and have your pool built by our team.
Below is our list of additional services: