New Pool Construction Services for Wellington FL Residents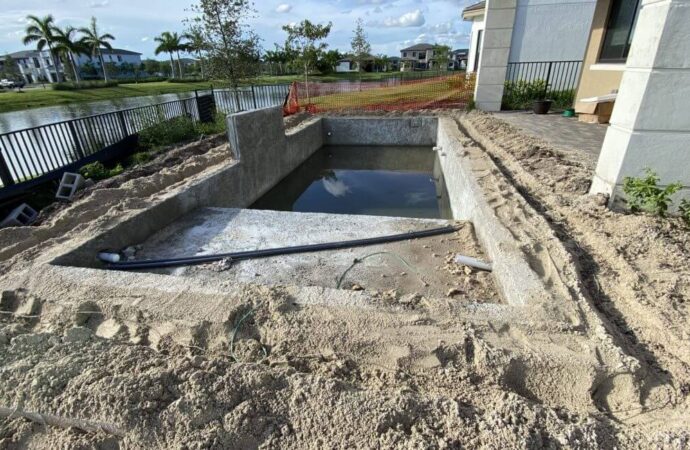 Wanting a pool for your residential and commercial property is quite natural nowadays. However, it can come with a lot of complications if you don't have the right people helping you in this process. You might not have had the time or the resources to build one you love, or maybe you don't even have an idea of what design would be better for a new pool construction, but you know you want one. This is when you move and hire builders who will help you after carefully considering the options in the city. SoFlo Pool and Spa Builders of Wellington are here to help you build a pool and provide all the options you need so you can make an informed decision on your pool project and bring all the benefits you expect from it.
While working with you on the project and making sure everything is clear, we will make sure to consider all these elements:
Consider your preferences for color and textures so you can have the design of your dreams and don't need to worry about it blending well with the rest of your features.

What are your needs? For instance, you may need a pool with a simple entry or maybe a more luxurious design.

Your budget and how much you're willing to spend if additional elements must be included in your design.

Space that is available to determine the type of pool that can be installed and built on the property.
We can help you make the right choices, beginning with deciding what pool is best. Many people think that they will have fewer problems if they have enough land. You will discover that not all pools meet your needs and goals, which is why it is important to look at a variety of options before you can find the one that suits you best.
It is crucial to think about how you will use it, whether it is suitable for the traffic—or the number of people that will usually be in the place—and how it will perform over the long and short term.
Here is where our support begins. We will help you with the options and show you examples to help guide you so you know what would be the best for your own project or not. We will discuss your budget and preferences and present you with estimates and designs that fit the project's requirements.
We are happy to assist you in any way we can with your pool design and planning, so rest assured our team will consider every step carefully.
Many residential and commercial property owners have an idea of their needs and what they will cost. We will assess the property and take all measurements. Then, we will make sure that your ideas and projects are possible within the available space.
No matter what, we will consider every aspect and focus on what you want for your pool. Even if you have an idea already, we will make suggestions and start to design the pool since this will help you consider whether the one you had in mind is the right pool, or maybe you will fall in love with another design.
These Are All the Pools We Build for You
This is the most common question we get asked. Everyone has their own idea of a pool, which is why we can't just work with a design or a type or two. If you spend the time to find out more, you'll see that it is important to customize yours, at least in some aspects, even when you get a specific type as well.
We have been building residential pools of every type, including saltwater, family recreation, and lap pools. We offer many additional services that will benefit homeowners as well as commercial property owners who are usually looking for more modern pools.
In our experience and time working with pools, we have noticed that Wellington residents love zero-entry pools and natural pools. Because of their affordability and inclusion, they are popular and quite easy to maintain while also reducing prices. Each member of SoFlo Pool and Spa Builders of Wellington is a qualified contractor and builder that will help you regardless of the final design you want.
It can be easily integrated into any pool area that has enough space. The spa addition is often part of the entire process of building a swimming pool. This feature is often required if there are commercial reasons for building the pool, but you can also request it for your residential pool.
There are many choices when it comes to commercial spas or pools. Infinity pools, architectural spas, and any other types that fall under the modern category are some of the most sought-after.
Your goals and requirements will determine the type of pool you choose. If you're looking for a swimming pool for your home or a pool that is specifically designed for your condo, we can help you choose the right option based on all requirements and needs.
Commercial pools are different. You need to consider what you want, what you need, and what other people want. You want this feature or structure to be the main focal point of your space and attract more people besides yourself.
We'll show you how trends have changed over time, so you can get the pool you want.
No matter which pool you choose from our services or list, we will guarantee that you get a durable and long-lasting result. We will help you to reduce maintenance and repair costs, so you don't have as many worries.
How Much Can a New Pool Cost You?
You can choose any pool, and any of them will have a different price range. It is important to plan how you will manage this process and consider all the options around their particular and specific prices. The standard price can range from $15.000 to $79.000.
Because of the many features and appliances included in them, infinity pools and luxury pools are more costly. Because of the work involved in fitting everything into a small space, a plunge pool can be quite expensive as well, along with a natural pool.
Our company will work closely with you to ensure that the pool meets your financial requirements. This will allow you to relax and not have to think about all the details.
We will work with you to find the right pool for your needs based on your preferences and budget. To schedule a visit, please give us as much detail as you can so that we can provide you with a quote.
Below is our list of additional services: