Pool Remodeling and Renovation Services in Wellington FL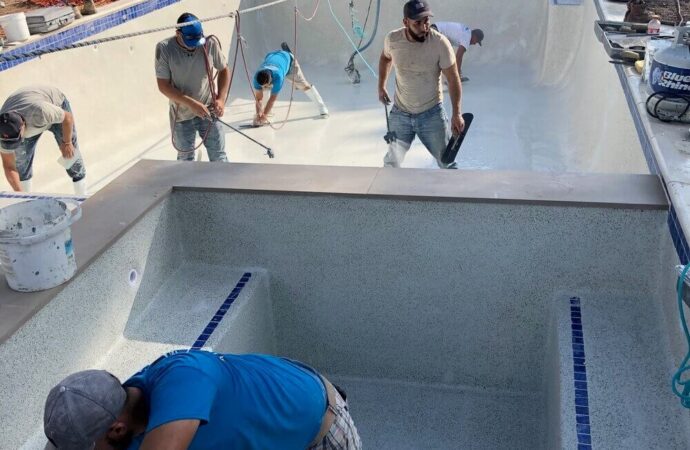 You may be satisfied with your pool's final look, or after a lot of work, you finally finished your pool and the entire design you have been eager about for years. This is a great step in your life, and we're happy you got to this point. However, there are many things that can go wrong with your pool. Many pool owners get tired of the current design and want to change it after several years, or maybe you're someone who is having problems with frequent repairs and more maintenance than needed. No matter the reason or goals, it's important to find qualified contractors and professionals that specialize in pool remodeling and renovations if you find yourself trapped in needing them. 
When you decide to go cheap and work around only some professionals you can find randomly, you will both spend more money and time and won't even be able to get the final result you expected after having a pool for several years and finally taking the step to renovating it. SoFlo Pool and Spa Builders of Wellington is here for you, so there's no need to struggle to find more professionals when we're in front of you. We will make sure that your project is completed by the most qualified professionals and that your pool is nothing else but perfect.
It's easy to modify your pool if you really think about it. But when it comes down to designing and planning the whole process, this is where the difficulty arises.
Resurfacing the pool deck is what most people desire to do. It is the main focal point of the space beside the pool itself and the place where most people spend their time other than in the pool. Resurfacing the deck or leaving the pool as it is can make a big difference. You can still work in the pool at the same time if you need to replace tiles or make changes, but resurfacing is what crosses most people's minds when thinking about renovations.
There are many options available, and you will need to consider different options for remodeling, so your choices may be more biased than you expected, and you will need to review more alternatives, colors, and elements that you thought. 
You should take time to review all details. When you have us as your experts, you have the ability to select the surface that you want, add amenities or make minor renovations. If you have some influence, you don't need to worry about what others think or what they expect from the renovations. We encourage you to focus on what you want to achieve with the project and have our team support you in the process.
It is more challenging for commercial pool owners to deal with remodeling. It is important to consider the design and style of your commercial property so that your pool appeals to guests and clients as well. This applies not only to you but also to thousands of others, so you will need to be careful about designing a commercial pool and bringing a new renovation project to the table and ideas for everyone involved.
We will help you decide what you want and your expectations in this instance. You have our complete support so that you don't have a lot of work or, at least, you get to make it simpler and easier.
This Is How We Support You
When you decide to rely on our experts, you're not getting experts that will only help you during the actual time for heavy work. It's up to you to choose what would best suit your vision and what you want for your design, but our first and main role is to support you through this process by bringing all the options to the table and helping you make decisions around what you want, like, and would love in the long term when it comes to taking care of your pool.
It sounds overwhelming, but it's not. We will take care of everything, gather all the information, assess the space, and decide what you need. Then we'll work with you to make it happen. This project will reduce the time you spend in the process and ensure the remodeling is a success.
We remind you that, even though time is limited, it is important to spend more time thinking about what you want or don't like about the new design. It is important that you organize your thoughts and talk about the options we have.
We will make sure you are satisfied with all the elements, amenities, and decisions you make throughout this project. There is a lot to do, so we want to make sure you don't have too much to worry about.
And, of course, we will handle the remodeling and renovations, so they are ready in record time.
How Much Does Remodeling Cost?
It all depends on the type of remodeling or renovations requested, how you plan to handle it, as well as the size, dimensions, and designs that are involved in this project so we can add them to the estimate and final cost.
If we focus on pool deck resurfacing and changing large or heavier elements within the space, prices can rise, and this is often one of the most expensive ways to remodel your pool and the area.
Resurfacing with brick or concrete pavers is usually the costliest option, but other options, such as eurotile can be quite affordable and bring a stunning result.
We can help you create a budget, and we will work with you to make sure you stay within it, so it isn't necessary to work around new additions or may be able even lower the amount that you have to spend.
Our team can assist you in adding different amenities to your pool so that everyone can enjoy it. All changes must be discussed prior to or during construction. We are happy to assist you with any questions, and rest assured that your pool remodeling project will be within your budget.
Below is our list of additional services: