Luxury Pool Builds and Spa Construction in Wellington FL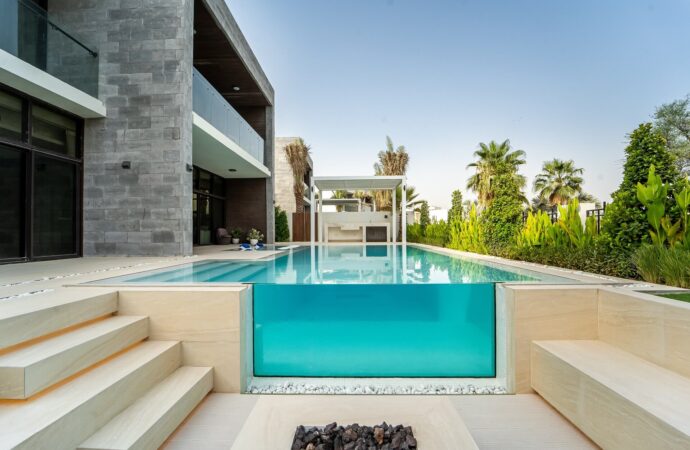 At SoFlo Pool and Spa Builders of Wellington, we know luxury pools and spas are quite popular, and there's one single reason behind it: People love aesthetics. They are always looking for clean and modern designs, and this type of pool happens to be the cherry on the cake for it. However, building them can be a challenge when everything needs to be aesthetically pleasing yet offer great durability and longevity as well while being affordable for some. It will all depend on the way you view the feature in your property or business and whom you hire to do the job, which is why we encourage you to get in touch with our team and have all your needs covered with our help.
We are committed to creating custom designs that meet your needs. They will look amazing for many years and last a lifetime. We will do our best to realize your dream luxury pool and ensure you don't have to spend the usual fortune most commercial properties or residential owners decide to invest in getting the feature all designed and installed.
Our company has been serving property owners for over three decades, and we're not afraid of a challenge. Although luxury pools were not included in our initial services, they have become a very popular service and one of the best pools we can build nowadays. So that property owners could continue to enjoy amazing spas and pools, we decided to prioritize their inclusion for several years and ensure you get exactly what you're looking for and more.
We want your investment in return for its money. You won't have any recurring expenses to worry about. You won't be able to take advantage of the pool if you don't have the right people to do the job. Instead, you will have a hole draining your funds and causing all kinds of problems, and this is what we want to help you avoid at all costs.
We Are Here to Handle Every Step
It is not exaggerated to say that we will be there from the beginning to guarantee that you don't spend more than what you can afford or end up with a poor result. We will be focusing our efforts on pre-planning the structure and making sure we include all features and elements you want for the pool so you can have the perfect design and features without sacrificing anything else, including your money or the pool's quality.
To ensure you understand how the project will work, it is important to work on the design, planning, and the whole idea. It is vital to have a plan if you are to reach your goals and exceed them.
Our team will be there to help you at every stage of the process and ensure that everything is on track. Each one of our contractors is flexible to your needs and preferences. These considerations are important as it is impossible to build a pool if they are not taken into account. We know from experience that many clients don't know what they want for their pool or luxury spa. You can rely on our experts and builders to help you design the perfect pool or spa and bring all your ideas, and those you don't even have yet, together.
You can add additional features to enhance outdoor living. You can also add fire pits or rain arcs to your property to make it more unique and stunning, depending on what style you want.
Once the design is completed, we will wait for your approval. We will provide a brief design during the estimated time to give you an idea of the final product. However, we won't complete it until you're satisfied. This would increase the cost, and our designers wouldn't allow us to quote you for free, but we would love to provide the final design as soon as you are happy with the draft.
We offer a free estimate and a visit to your space. A polished plan will be sent to you so that everything is perfect. Before you accept the design or during the entire process, you can remove or add items.
Then we start building your pool and bringing it all together. We will have your pool ready for you in no time. If you're a commercial property, we won't let you lose potential clients due to how long the construction will take.
Why Should You Have A Luxury Pool?
It's not about creating a luxurious pool to look fancy or anything similar. A pool can also add value to your home. It will be a bonus as long as the pool is well maintained, and if you can go for a stunning and aesthetically pleasing design, why not do it?
You can enjoy the beauty of a pool and spa all year long in Florida, and we consider that luxury pools don't have to be unnecessarily expensive as long as you are in our hands.
Luxurious options are all about extras and amenities. You can enjoy a larger pool, more experience with waterfalls, or a pool that is similar to a resort.
It is possible to have this pool installed indoors with the help of SoFlo Pool and Spa Builders of Wellington as well, so you can either bet on an outdoor design as always or go for the indoors option. We will work tirelessly to offer you features that add value that you can actually enjoy.
Audio, lighting, deck jets, and waterfalls are all possible to include. To help you choose what you want, we will give you a list of possible options. We will then move on to the next step.
We will work hard to guarantee you have a design that not only satisfies you but also makes you happy in every possible way, so rest assured we will be there to help you regardless of what you're trying to achieve in all this.
Our team will handle every step and always keep your best interests in mind.
Below is our list of additional services: