Lap Pool Construction Services in Wellington FL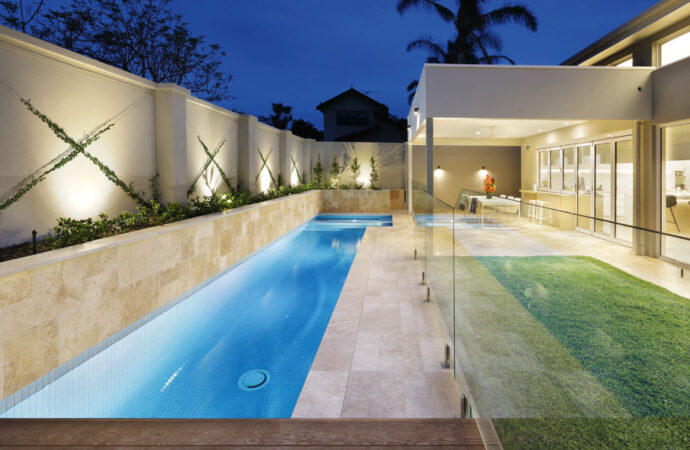 A pool has a purpose in most cases. Although the main one will lie in how everyone wants to have fun and have a stunning outdoor or even indoor feature to enjoy their time and spend time with everyone else, some people will actually choose to build a pool that can bring different benefits and fulfill the main purpose. Lap pools, for instance, are useful for staying in shape and most owners use them to go for natural laps that will help them stay fit. SoFlo Pool and Spa Builders of Wellington contractors have helped many property owners to build lap pools that allow them to enjoy the day, swim for a few laps, train, and stay fit without having to rely on other places.  
Although these pools have a particular purpose, you don't need to feel restricted by their design or construction since many owners decide to give them a go as long as they feel comfortable with the shape and entire style of the pool. It's all about choosing the right materials and constructing a structure that suits your needs and goes well with what you consider your taste is, and we will remember this philosophy when you decide to navigate this process with us.
Many property owners chose to have this pool installed instead of the traditional one to encourage their tenants to get active and take a dip in the pools or just to encourage themselves as homeowners and take advantage of the space alone so they can have a small yet functional pool that allows them to have it all.
We believe that they are perfect for those who don't have a lot of space but still want an extra element to allow them to relax and encourage exercise.
Our team will guide you through the process to ensure your pool is built on time and with all the features you want. We will put everything together, make sure it doesn't take too long to do the installation, and ensure that it lasts for many years with very little maintenance and without you having to worry about all the repairs some pool owners face due to poor services.
Now, there is a little misconception about these pools when people consider building them: they're only for recreational purposes or for staying fit.
The pool can be used for many purposes whatsoever, and we briefly mentioned this already. It all depends on your perspective. Many owners found the pool to be very suitable for their space, so they decided that it would make a great addition to their backyards and indoor spaces.
When space is tight or limited, a spa or plunge pool would be a great idea. However, it would be fair to have a vertical pool that maximizes the area and brings a specific use if you are, indeed, interested in the entire process.
It is not intended for recreational use, in fact, but it is the main purpose of the installation for many when they know they can just exercise, although this isn't necessarily included in the category. People use them to stay fit and exercise when they are unable to go to other training facilities or pools, and you can just do the same.
A few business owners could benefit by installing one or more of these pools and offering the facilities to swimmers or anyone else who enjoys swimming. These pools are less expensive than traditional ones, and they provide a great ROI for both your clients and visitors or only yourself. There are so many ways to look at this project that we're sure you may want more than one lap pool if you have the space.
What Is the Difference with Other Pools?
The main difference anyone could notice is the length of the pool and how it works for what it is intended and hinted in its name: laps.
You will need to look at another option if you want a smaller or more proportional pool, but you will find the vertical design quite useful and attractive when done right.
You can also have different edges or work around resting areas on each end to make it more comfortable. You will need to think about the design elements and other features that make it possible.
There are only two types of lap pools: in-ground or aboveground. Each pool design has its own unique requirements, and you will notice the difference in the entire design once you get to know the structure and how it can influence your exercise sessions.
We can help you make the right decisions based on your preferences as we bring all the options together list the pros and cons, and since we are meant to assess your space to provide the estimate for your project, we will be able to let you know what would be more suitable based on your property's design as well.
Request Your Lap Pool in Wellington Today!
We are available to help by calling or emailing our team. You can also fill out the contact form where you can provide us with the information to send you an estimate that will usually be based on a free visit, but it is possible to give you a quote based on details only, but it will be quite off in most cases or less close to the final cost.
To get a quote from us, it is best to schedule an assessment. We will assess your space and take all measurements. We will then give you an estimate based on the design and materials you choose. If you already have an idea of the design you desire, we can either give you examples or help you to create your own.
Therefore, take the time to fill out our contact form or reply to our questions via email. If you call us, our team will go through a similar process, and if you are unable or don't want to share as much information, we can only provide you with an average of how much it could cost based on your property's dimensions and if the length of a lap pool is doable.
Contact us today and get all the assistance you need and many more services around residential and commercial pool construction, remodeling, and renovations, or just some consultation about what would be best for your property and the idea of lap pools.
Below is our list of additional services: