Family Recreational Pool Builds and Spas in Wellington FL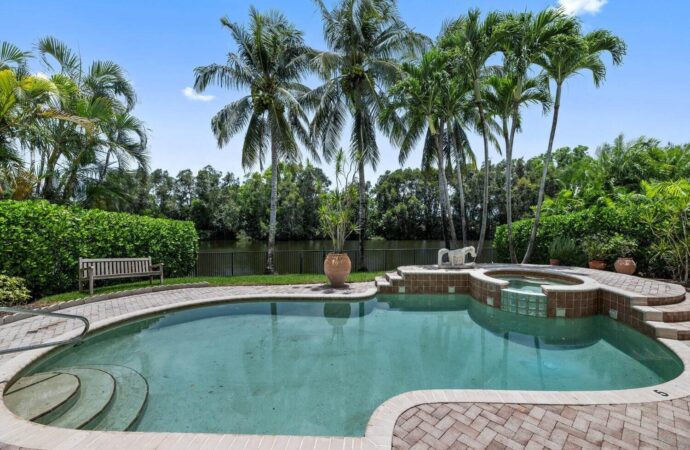 SoFlo Pool and Spa Builders of Wellington loves to help families add new features or spaces to their backyards and bring fun and entertainment with a feature that has it all. This allows them to have more fun and spend time with family and friends, so they don't have to go to other places or spend more time and money on some elements. Our team has the expertise, design, and ability to create the perfect results for you when it comes to family recreational pools and spas, so if you were aiming for this type of pool or this type and finally want to take the step, we're here to support every part of the process:
Design.

Planning.

Polishing.

Construction.

Review of the final result.
Family recreational pools should not be just about the pool and the basic structure we all know about. While you can still have fun with the basic features, it can get a little boring. Sometimes, you want additional amenities to encourage more exercise and enjoyment. However, this must be done correctly if you don't want one to interfere with another element or cause problems in the long term.
What features and amenities can you add to your pool to create a memorable experience for your family? This is the first question we help answer.
The pool will offer more than just a relaxing experience. Our pool contractors have more than 20 years of experience and can create a unique design for your pool. How? By working on your preferences and needs and bringing all the possibilities for recreation to the table for, you to choose the most suitable ones based on our recommendations or what you want—maybe both.
We will present the options to you before we proceed to the actual design. You are the final judge in this process, and we will let you know how possible something is.
Many families have a slide or a waterfall installed in their pool. It creates an outdoor space everyone can enjoy, regardless of the pool's depth or height. You can add more features to your design and choose not to use them, and you don't necessarily have to follow what others do.
Before you get too concerned about extras and features, consider the size of your pool and what it will look like for you and your family. Here are some options for how a recreational pool could be constructed and the factors that usually influence its design:
The pool will be large enough to accommodate six people or more and also allow for them to have fun and bring all the enjoyment to the additional features we'll help you add. 
The dimensions of the pool should be approximately 18 feet by 38 feet. You should consider how many people will use the pool and what extra amenities you want to add. This will allow you to design the pool according to the right size and the intended uses and determine if you have enough space, to begin with.
These will typically be 16×32 feet in size. They are ideal for smaller properties or those who don't require all the space, and you can often fit up to 6 people in it, and we don't recommend using it for more.
They also measure between 14 and 25 feet. They are great for up to 4-5 people and can provide basic needs, and are quite comfortable when the space is quite limited.
These pools can be very useful if you pay attention to how the pool works and what your family enjoys using it for. A lap pool is a popular choice for athletes and those who want to stay fit.
Your needs must be met, and the pool should provide enough space for training and practice. You can always add additional amenities or features.
Different Materials Can Be Used For The Design
Every pool is different and made with different materials. Pool builders also use different tools. You can create certain styles or designs with different materials depending on what you want.
Gunite, fiberglass, and vinyl are all great options for pool design. These are strong options that offer great results for a low price. The pool's total cost is, therefore, lower and more affordable for you.
Gunite is the best choice because of its versatility and the many shapes it can make. A well-defined frame can be created with concrete or sand. This makes the pool's surroundings distinctive and unique.
This is a great choice if you are looking to add recreational features such as rocks, waterfalls, slides, etc. This allows us to modify the product easily without having to do a lot of work to ensure that the materials fit together properly.
Fiberglass is a traditional choice for a pool. It can also heat the water to make it a spa. Fiber optic lights can be added to your space, setting the mood and creating an ambiance.
Vinyl is the most durable option and also one of the most affordable. It can be made flexible, which will reduce the need to repair and crack later.
Get A Free Estimate After a Free Visit & Assessment
You only need to call us or send an email to reach our team. We are grateful for any information or facts regarding your property, and we will schedule a visit so we can assess the space and provide you with an estimate.
We will need to schedule a visit to assess the space and determine the dimensions. This will enable us to plan the process so that you get the best possible results. It will also allow you to make sure you have a lasting one that your family and friends can use.
SoFlo Pool and Spa Builders of Wellington will be happy to install your spa or pool within a matter of weeks. We can tailor our services to meet your requirements and make sure you're happy with the result, along with achieving your family's happiness.
Below is our list of additional services: