New Pool Builds & Construction for Royal Palm Beach Homes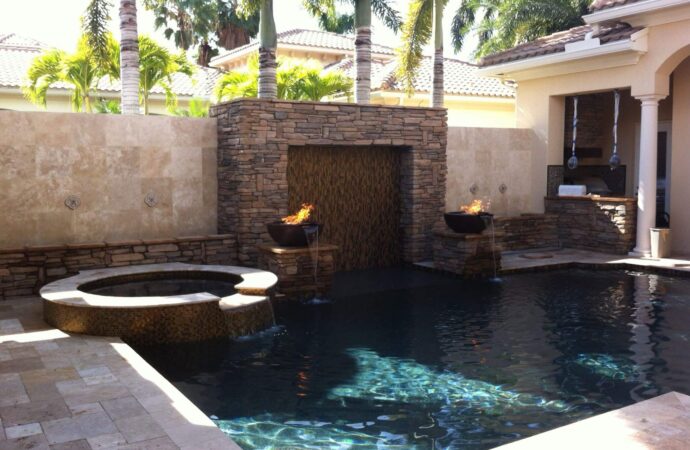 Royal Palm Beach is one of the most beautiful places in the state, and we want to ensure that if you build a pool, you get it done right and for a fair price. It is possible to build stunning spas and pools on your residential or commercial property. This will make your life easier and add value to your home. SoFlo Pool and Spa Builders of Wellington are here to assist and guide city residents and property owners in this journey, so you don't have to spend more and get the design you want. 
We have the knowledge and experience to help you design and build multiple pools, so you can reach out and expect our team to help you with a wide variety of types and designs.
We are proud of the improvements we have made over the years to our services by focusing on these aspects:
Only the finest materials and tools are used in our company to guarantee stunning and durable results.

All our experts and contractors are properly licensed and experienced to complete the jobs and tasks assigned to them.

Staying up-to-date with the latest technologies and ensuring our experts have the most recent techniques to achieve better results.

We are interested in you and your request. We will need to know about your property and what you expect from the service. This will tell us everything you need and want.
We are conscious of the fact many local companies focus on listening to or considering some elements and then finding the right design or type based on the different examples and types available.
In our case, we will take the time to understand what you need, what you want, and what your expectations are. We will then make recommendations to help you make the final decision.
You can also ask our team to provide a specific service, such as building a swimming pool according to your plans and dreams. If we can show it is possible and the design fits the space, then we will comply with your request.
"How Do I Access Your Services in The City?"
We can work with you if you simply call, email, or visit us. You can trust our contractors to be responsive to your needs and make the process easy.
Before we can provide you with a quote, it is important to assess your property. This is why we remind you that it is crucial to determine how much space you have and what the dimensions are. This will allow us to plan the project and bring our designs to life.
When you reach out to us for help, there are two options:
We can provide a specific service based on the information you give us. 

If your project isn't in the right place, or you are unsure where to start, we will provide full support and assessment.
We will help you with any questions or concerns. You can also customize the pool to your liking with our spa and custom pool services.
Below is our list of additional services: