Natural Pool Build and Spa Construction in Wellington FL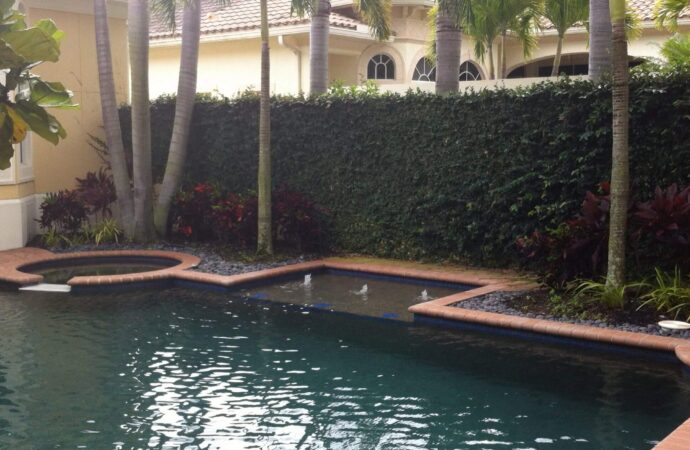 We have been in the pool industry for quite some time. We can tell you that natural pools and spas are now very popular since they are eco-friendly, cost-effective, and affordable for residential property owners and even commercial ones who are willing to sacrifice some luxury for a more natural look that even brings interest in how disabled and more than regular people can use them. Overall, they offer greater flexibility in the way you use them and whom you invite to them since they are meant to have a better design and connect with the deck or surface of the space. 
However, you will need to hire natural pool builders if you wish to add this feature to any property, residential or commercial. SoFlo Pool and Spa Builders of Wellington has been creating pools for over three decades, and natural pools are part of our favorite options.
We love the natural option, and we encourage owners with enough space to make unique designs to bring more than just a piece full of water to the equation and landscape they have at home or business property.
Florida is one of the few states with natural spas and swimming pools. It is because of the wonderful weather and the many benefits of having them right in your backyard. You can enjoy it all year round and offer different amenities for your guests and clients if it's built on a commercial property.
What makes natural swimming pools unique, though? The nature inclusion and design elements of natural pools blend seamlessly with outdoor spaces. You can create an environment that encourages more plants, keeps nature close to you, and makes it easier to maintain.
Also, add the detail or feature of how it can connect to the deck or surface. This will make it comparable to a zero-entry pool, which doesn't require stairs, and allow disabled people to enjoy the pool without any issues. In fact, you will notice that zero-entry pools and the types of designs available for them include a natural pool on the list.
To complete the look, you can add many features and amenities. This will make your natural design unique and perfect. Our team is highly skilled in handling this project and bringing out all the best without you having to struggle in selecting the different options.
It is important to remember that natural swimming pools can be more complicated than they seem. It is possible to make your pool look like it is part of a forest or river. However, this can be costly and require additional features.
Our team can help you choose the right features, amenities, and additions. We will ensure your style lasts many years, fits well in your outdoor space, and doesn't get outdated.
When we work in a natural pool, it is designed to reduce the amount of time and money you spend on it. You will be able to control what you spend in the short- and long-term, even though the pool may offer additional elements or have a tendency to offer more commodities and features. Take the time to look over all the options and let our team work closely on the design so you can reap all the benefits.
Our Team Assists You Throughout the Process
It's different to work in a normal pool than a natural one, and even if it wasn't, we would still help you with every step, as this is part of our service and principles. It's not just how the water looks but also how it will change over time and all the features that you need to add or remove, so we want to make sure you get every detail right.
The pool water will be filtered and cleaned by a pump and system. You will be able to swim in the pool water without worrying about chemicals. This option is very popular in Florida as it allows both children and adults to use the pool with no worries about chemicals or chlorine. It also reduces costs in the long term, but it needs to be done right if you want to get a clean and affordable result.
If chemicals are used in a different way, they can be extremely costly and potentially very dangerous. Natural pools and spas are safe if they are properly installed, and we will need to set a good design and planning before that.
This pool should be safe and enjoyable for all. If you are willing to let us design the pool to your specifications, you will be able to enjoy the relaxing atmosphere and other amenities.
Because they aren't chemically treated, natural pools can be filtered with the best living systems multiple times. This will also ensure that the water is free of bacteria.
This is a disadvantage. This can lead to an increase in construction costs due to the use of many surface skimmers and filters. They are not always required, but they can help you achieve the best return on your investment, and we will make sure to keep everything affordable as long as you are open to some variations in the project.
How Much Will You Spend on the Project?
The liner is placed over the pool so it can be installed on any surface. It can be expensive, but it is worth the cost, and you still need to consider the different pumps and systems used for this.
You must do this correctly, or you'll have to make many repairs.
Costs will vary depending on the size and amount of space required to cover the final product. The price of your project will rise if you include recreational or other amenities.
A pool can cost more than $55.000 on average. However, this price can be reduced if the pool is small or you don't intend to add any amenities. Prices will vary depending on the way that the pool is constructed and how it's designed.
After we have assessed the property and discussed all options, designs, and preferences, everything must be finalized. We will arrange a visit to estimate the cost and give you a customized quote based on what you need and how much money you have available.
Below is our list of additional services: